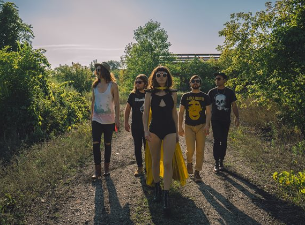 Chicago, meet GGOOLLDD, the indie rock/synth-pop band out of Milwaukee, WI. I recently had the opportunity to speak with singer Margaret Butler and got some insight into the band's creation, their headlining tour of the US, and where they are headed as a band.
Butler spent her formative years in Baton Rouge, and confessed that becoming a musician was never something she aspired to at the time. However, being a free spirit with a "say yes"attitude, she moved to Portland once she was done with school, which was followed by a move to Milwaukee, where her new life path presented itself. At the time, she knew nothing about writing music or the music business, but when a DJ friend of hers gave her a song, she tried her hand at writing some lyrics for it. Butler eventually went on to record what became GGOOLLDD's first single entitled "Gold." The band's name was inspired by their breakthrough single, but they decided to double up on letters to create a more searchable band name.
GGOOLLDD's original lineup included more than the 4 we see nowadays. Since the band's inception 3 years ago, relationships changed, old members left, and newer, more experienced band members joined the ranks, adding value to the band and helping it become more established. When they started getting attention from radio stations and music outlets, the band decided to become more serious and really focus on their craft.
In the time that followed, GGOOLLDD shared the stage with groups like Passion Pit, Blondie, Death From Above 1979, and The Kooks among others. Being asked to open for such well-known acts gave the band affirmation that they were on the right track with their music. More recently, the band has been headlining their own US tour. When I spoke with Butler, they were just starting a month long break in the tour to focus on writing and recording. Their last stop prior to the break was in Butler's hometown of Baton Rouge where they played at Spanish Moon–a bar Butler worked at when she was living at home. Although their show was on a Sunday night, a lot of people came out for it. Butler said it was great to see her old friends, especially since when she left Baton Rouge, she wasn't even thinking about playing music, let alone headlining a tour.
In the 3 years that the band has existed, Butler has surrounded herself with experienced and patient bandmates, who have taught her a lot about music and the writing process. The group has created a wonderful dynamic–everyone works together to write all the parts, and nothing is off the table when they are creating new material. The writing and recording process has been positive for everyone in the group and has turned them into a tight-knit little family. Heading into their month long break, Butler is looking forward to writing with the rest of the band, and anticipates having a new single out this June.
Chicago is GGOOLLDD's first stop when they resume their tour in mid-April. Butler said that she is most excited for fans to hear the new material they've written in the past 6 months or so that they hadn't had the opportunity to record before the tour started. Their live sets sound relaxed, as the band doesn't like to take themselves too seriously while playing. Being able to be a bit silly on stage takes the pressure off of being perfect and makes the show far more memorable for everyone involved.
Being full time musicians now, the band doesn't have much free time since the majority of their downtime is dedicated to writing new material. However, on the off chance that they do have a spare moment, they enjoy animals, wine, dairy-free ice cream, and some good ol' hand holding.
GGOOLLDD plays The Empty Bottle on April 12th with Archie Powell and the Exports and Muvves. Grab your dog, get some wine, and snag your tickets for the show here!